photo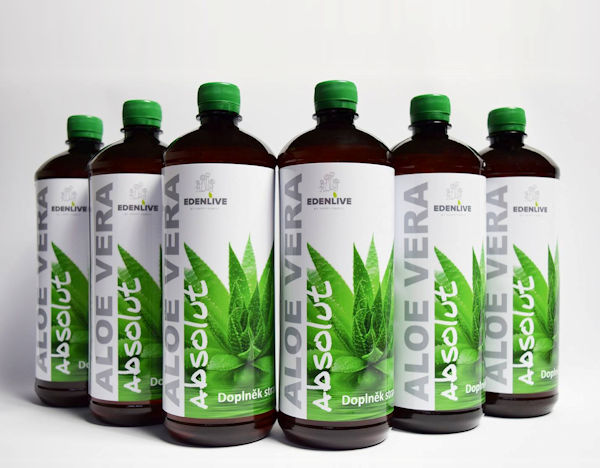 photo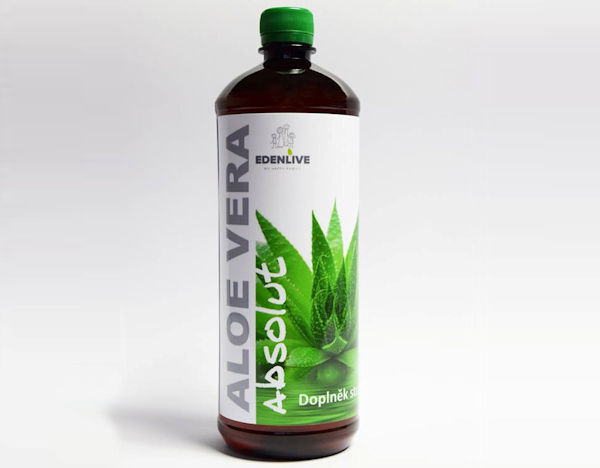 photo
Aloe vera - Absolut
Aloe Vera of the highest quality on the market - Acemannan: 1850 mg/l
ALOE VERA - ABSOLUTE 1L Barbadensis Miller
Highest-quality Aloe Vera on the market - Acemannan: 1850 mg/l
Aloe Vera Absolute is the only starch-free product of its kind.
Product description:
99.5% pure aloe juice with pulp. Aloe vera Barbadensis Miller comes from Mexico. The aloe vera juice contained in this product is certified by The International Aloe Science Council (I.A.S.C.)
Aloe vera contains more than 200 active ingredients. The most important being long-chain polysaccharides, the content of which, in its basic raw material, is guaranteed by the supplier as proof of analysis and is above 9%. Our aloe juice is produced from carefully selected, fresh and ripe aloe leaves. The method used in extracting the juice guarantees that all of the best properties of the freshly pressed juice remain inside. The pressing of this life-giving juice is only performed on the rare pulp itself, and the use of our patented method of further processing the juice guarantees the preservation of the product's highest parameters - the preservation of all the unique bio-active properties of this fresh juice. The flesh contained in Aloe Vera Absolute aloe juice has the most valuable composition possible, as it comes from fully ripe, four-year-old plants.
Aloe Vera Absolute aloe juice with pulp is an excellent supplement to a daily diet, which supports the digestion of the body. Aloe Vera Absolute aloe juice with pulp is produced from the Mexican ingredients of the ALOECORR company.
What Aloe Vera (pure Barbadensis Miller aloe vera) can do for you:
Antifungal effects, destroys bacteria, viruses and mould
Contains antipuretic effects (reduces the sensation of itchiness)
Starts, activates and strengthens the immune system
Contains anti-inflammatory effects (reduces fever)
Nutrient storehouse, particularly rich in vitamins
Accelerates the healing process for injuries, including burns
Detoxing and antioxidant effects
Eliminates stomach hyperacidity
Perfectly cleans the bloodstream
Reduces and stops bleeding
Contains hypoallergenic effects
Subdues and suppresses pain
Antidiabetic effects
Natural antibiotics
Lowers cholesterol
Aloe Vera and its ingredients support the following:
Not everything is mentioned, as official repressions forbid the naming of medicinal effects and cannot be displayed or presented to clients.
Supports the excretion of foreign substances or metabolites from the organism, i.e. supports detoxification
The content of enzymes increases the action of juices secreted by the gastric and intestinal mucosa
Acts against free radicals (from sports, air, poor diet ...)
Provides support during acidification (especially around the stomach and intestines)
Provides support for processes involved in injury healing Increases the absorption of vitamin C
Adult dosage:
3x30ml per day, one hour before eating. Shake well before using.
Product ingredients:
Aloe vera juice with pulp (Aloe Barbadensis Miller) 99.5%, acidity regulator: citric acid, thickener xanthan preservatives sodium benzoate and potassium sorbate
Not meant for children. Not suitable for pregnant and nursing women. Not suitable for persons allergic (sensitive) to any of the substances included in this product's ingredient list. This product is suitable for vegetarians and vegans. Possible sediment is of natural origin and has no effect on the quality of this product. Keep out of direct sunlight. Once open, keep in a refrigerator.
Consume within 21 days of opening.
Warning:
This product was put on the market as a dietary supplement. It does not have approved medical effects and it does not act as medicine. Not meant to replace a varied diet. Do not surpass the recommended dosage. Do not store within the reach of children.