photo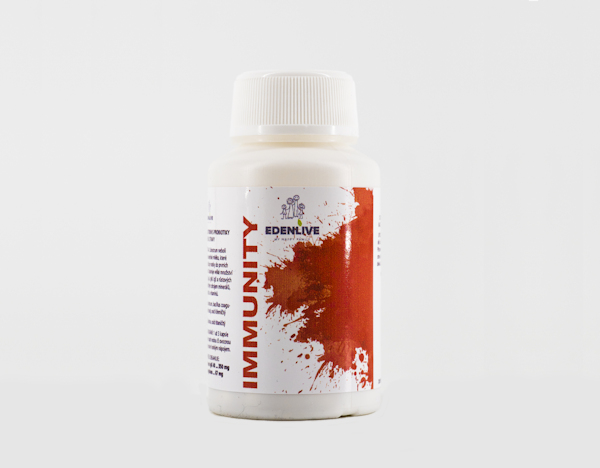 Immunity
Natural dietary supplement, which supports health and the normal function of the immune system.
IMMUNITY - COLOSTRUM
60 capsules containing Colostrum IgG40 PROBIO, with probiotic strain LACTOSPORE. These capsules are the one-of-a-kind combination of animal and plant origin, which supports overall health.
IMMUNITY is a natural dietary supplement, which supports health and the normal function of the immune system.
Enriched with a probiotic culture of Bacillus coagulans
Maximum values of active substances and IgG40 immunoglobulins
A new form of spray-dried bovine colostrum
Protection of immunoglobulins against premature digestion in the gastrointestinal tract
A unique combination of natural substances of animal and plant origin
The capsules contain colostrum from exclusively Czech controlled farms
Ingredients:
1 capsule contains 350 mg of cow colostrum, 1 billion patented probiotic strains, which go by the name LACTOSPORE The capsule coating contains gelatine.
IMMUNITY uses:
It is recommended to use this product as prevention against the flu, common cold and viral illnesses. It may also be used when ill, during convalescence, after an injury and the long-term use of antibiotics. This product may be used by both children and adults. According to medical studies it is recommended that this product is used by children to prevent viral illness and to support their growth. Immunity is suitable for those suffering with allergies, asthma and Alzheimer's disease.
Why should you take our colostrum?
Our product offers bio colostrum of the highest quality, and it is collected at a maximum of 6 hours after birth!
It is produced via a highly ecological form of microfiltration
It is de-casinated and defatted to have maximum efficiency
No additives includes, making it a 100% natural product
It is an important source of proteins, carbohydrates, vitamins and minerals
It also contains many biologically active molecules necessary to strengthen immunity and growth
What is colostrum?
Colostrum, or beestings, is a fluid produced by the mammary glands during the initial hours of giving birth. This period is so important for new-borns, that many new-born mammals would not survive the initial hours without it. The body is confronted with an array of viruses and bacteria after having given birth, from which the body needs to protect itself. It is for this reason that the mammals' mammary glands product colostrum, which contains biologically active substances. In particular, IgG, IgA and IgM are some of the most important substances found in colostrum. When compared with humans, cow colostrum contains up to 40x more of these substances.
Nature herself has created quite an effective tool for immunity support. Thus, in the past few years, cow colostrum, which is particularly fitting for humans thanks to its high quality, has been identified as the most suitable alternative to human colostrum. Apart from the fact that colostrum is a significant source of proteins, carbohydrates, vitamins and minerals, it also contains many biological active molecules crucial for immunity and growth. These elements have also been located in cow colostrum and they are nearly identical to those which have been identified in human colostrum.