photo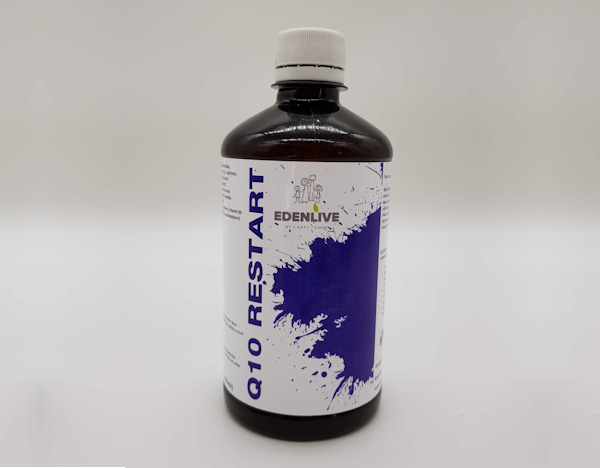 Q10 Restart
Dietary supplement - 500 ml (15 doses)
Unique ingredients specially developed for the EDENLIVE company
This product was specially developed for balancing an insufficient amount of coenzyme Q10 in the body
Various health issues, tiredness, cosmetic defects and psychological disgruntlement may be the first sign that your organism is missing out on various vitamins! Completely restart your organism and immune system by using our Q10 RESTART for a period of 90 days.
Our product contains a balanced combination of coenzyme Q10, vitamins, minerals and lutein, which overall help to improve your health condition, thus increasing your physical activity. Q10 RESTART and coenzyme Q10 contain vitamins A, C, D, E, B-complex and lutein. Which is why our product is effective against tiredness and exhaustion, improves the psyche and provides positive effects to the nervous system. It ensures a properly energetic metabolism, provides positive effects to the immune system and contributes to normal heart functions. It supports the creation of red blood cells, provides positive effects to cartilage and bones, maintains normal eyesight levels, and improves the condition of the hair and skin.
The product comes in liquid form, which makes it suitable even for people who dislike swallowing larger capsules or tablets. The product does not contain alcohol. Suitable for children.
Positive effects of using coenzyme Q10:
leads to a decrease in blood pressure, and does so without any unwanted side effects, which are common with conventional treatments
provides positive effects when battling obesity – low Q10 levels have been recorded for
overweight individuals
supports heart health
supports the production of energy in the muscles
maintains healthy heart tissue
increases energy levels
can help maintain normal cholesterol levels in healthy individuals
improves the oxygen capacity of athletes - improves performance and energy, relieves
symptoms of fatigue
protects against free radicals
The following symptoms may occur due to insufficient Coenzyme Q10 levels:
long-term stress
energy loss
exhaustion
inability to handle daily activities
irritation
weakened defence - easy to succumb to diseases
Higher demands on the intake of coenzyme Q10 are necessary in the following situations:
damaged livers
heart diseases
high blood pressure
when playing sports
stressful functions
lengthy mental strain
Product ingredients:
water, calcium lactate, magnesium lactate, dried orange juice, moisturiser: glycerol, vitamin C (ascorbic acid), coenzyme Q10 - ubiquinone, emulsifier: soy lecithin, preservative: potassium sorbate, acidity regulator: citric acid, orange aroma, vitamin E (DL-α-tocopheryl acetate), colourant: curcumin, vitamin B3 - niacin (nicotinamide), pantothenic acid (calcium D-pantothenate), thickener: xanthan, lutein, sweeteners: sucralose and steviol glycosides, vitamin B6 (pyridoxine hydrochloride) , vitamin B1 (thiamine hydrochloride), Vitamin A (β - carotene), Vitamin B2 (riboflavin), Vitamin B9 (folic acid), D-biotin, Vitamin D (cholecalciferol), Vitamin B12 (cyanocobalamin)
1 dose (33 ml) contains:
coenzyme Q10 - 300 mg, vitamin C - 400 mg (500% RI), vitamin E - 24 mg (200% RI), niacin B3 - 16 mg (200% RI), pantothenic acid B5 - 12 mg (200% RI) , lutein - 5 mg, vitamin B6 - 2.8 mg (200% RI), vitamin B1 - 2.2 mg (200% RI), vitamin B2 - 2.8 mg (200% RI), folic acid - 400 µg (200% RI), vitamin A - 166 μg (20% RI), biotin - 50 µg (100% RI), vitamin D - 5 µg (100% RI), vitamin B12 - 10 µg (400% RI)
*RI = Reference Intake
Recommended dosage:
Drink the contents of 1 measuring glass (33 ml). Thoroughly shake the bottle before use. The measured content of one measuring glass may be drunk on its own, or it may be distilled according to your needs and water flavour. Children ages 3 and older may take 1/2 of a measuring glass once per day.
Warning:
Do not store within the reach of children. Do not surpass the recommended daily dosage. Do not use as a replacement for a varied diet. Maintain a healthy lifestyle. This product is not designed for children ages 3 and younger.
Storing:
Store in a cool and dark place (refrigerator).
Manufactured in the certified system HACCP, ISO 9001