photo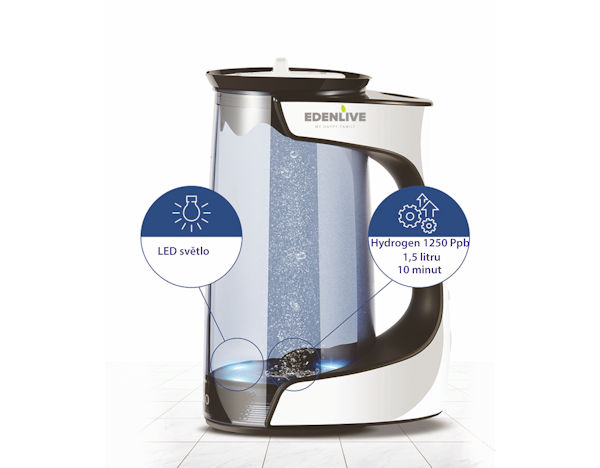 photo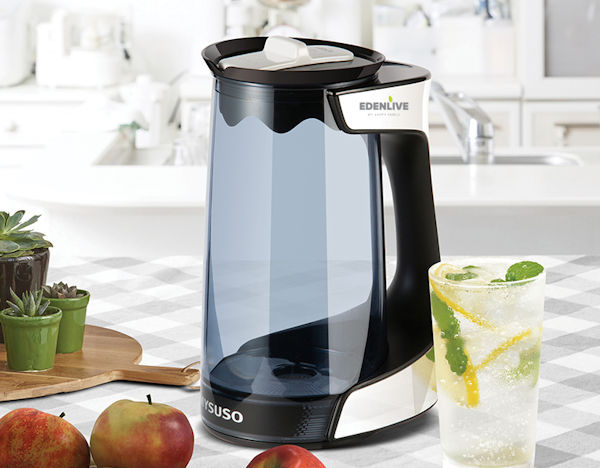 The water's PH does not change, and the water is rich with hydrogen and minerals. You no longer need to travel to France once a year to get your hands on miracle water. The EDENLIVE company offers a hydrogen generator, which you can use to drink miracle water every day of the year!
Worldwide patented membrane PEM
makes hydrogen in any kind of water (including warm water!)
the hydrogen in the water lasts up to 7 hours
What is a hydrogen-carbonated water generator?
a device that allows you to make water carbonated with hydrogen, anytime and anywhere
Iit can be used continuously
In what way is hydrogen-carbonated water different that ordinary water?
it is neutral water, as is the water contained in our body
it effectively and rapidly penetrates the cell membrane because its molecules are smaller
contains dissolved hydrogen, which is an antioxidant
it is rich in healthy minerals
Why should I drink hydrogen-carbonated water?
hydrogen is the strongest antioxidant
thanks to the hydrogen molecule size, hydrogen makes it to the brain
helps increase the effectiveness of other antioxidants
increases the effectiveness of vitamin C
large supply of natural minerals
when compared with ordinary water, which usually has its minerals filtered out, it provides plenty of health benefits via natural minerals
perfectly eliminates harmful bacteria such as protozoa, viruses or E. coli
has a negative oxidation-reduction potential (ORP) up to -450 mv (unlike ordinary water, which has a positive ORP)
Molecular hydrogen has positive effects on the following health problems:
diabetes mellitus type II
inflammation of the pancreas
inflammation of the liver
inflammation of the intestines
autoimmune diseases (allergies, multiple sclerosis)
metabolic syndrome
obesity
blood pressure regulation
ischemic heart disease
heart attack
stroke
atherosclerosis
Parkinson's disease
Alzheimer's disease
insomnia
joint inflammation
hearing loss
glaucoma
acidic organism
strengthening immunity
oncological diseases
kidney protection at place of inflammation, after transplantation and in chemotherapy
Appliance parameters
automatic hydrogen-carbonated water generator system for concentrations over 1000 ppb
automatic electrode purification function that protects the electrodes for the maximum quality of generated water
uses a new concept of polymer electrolytic membrane (PEM)
plenty of dissolved hydrogen, which reaches 1000 ppb in 10 minutes (may vary depending on water quality and temperature)
high resistance value, up to ORP-450mV
the pH value remains neutral despite the high concentration of dissolved hydrogen and the high resistance
environmentally friendly material (Eastman Tritan), does not cause any hormonal contamination of the environment
perfect integration and watertight at all connecting points
antimicrobial effect and infrared radiation emitted by ceramic beads
great atmosphere provided by the coloured LEDs on the bottom of the container