photo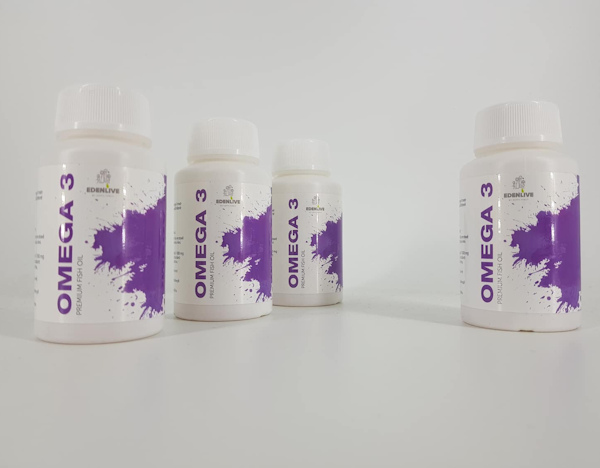 Omega 3
Omega 3 1000 mg, EPA 180 mg, DHA 120 mg
This Omega 3 product, with a high content of omega-3 fatty acids, is designed to care for the heart, blood vessels and other bodily functions.
Effects and purpose for use:
DHA helps to maintain:
normal brain function
normal condition of eyesight
EPA and DHA contribute to normal heart function.
Replacing saturated fats with unsaturated fats in your diet helps maintain normal blood cholesterol levels.
Take 250 mg of DHA, i.e. 3 capsules per day, for beneficial effects to your brain and eyesight.
Achieve beneficial effects to your heart by taking 250 mg of EPA and DHA, i.e. 1 capsule per day.
Package contents: 30 capsules
Ingredients:
1 capsule contains: fish oil (fish product) 1000 mg (EPA 180 mg and DHA 120 mg per 1000 mg), antioxidant: D-alpha-Tocopheryl acetate.
Additives:
Capsule coating: gelatine, glycerol, water
Recommended dosage:
1-3 capsules per day
We recommend drinking a sufficient amount of water.
Warning:
Not suitable for children ages 3 and younger.
Do not surpass the recommended daily dosage.
This product does not make up for a varied and balanced diet.
Store in a cool, dry and dark place.
Do not store within the reach of children.
Persons suffering with a severe blood coagulability disorder may not use this product.
Persons currently taking medicine to significantly reduce blood coagulability should consult with their physician before using this product.