photo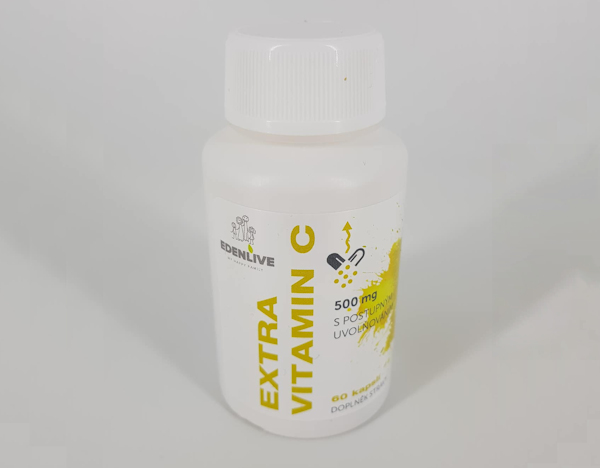 photo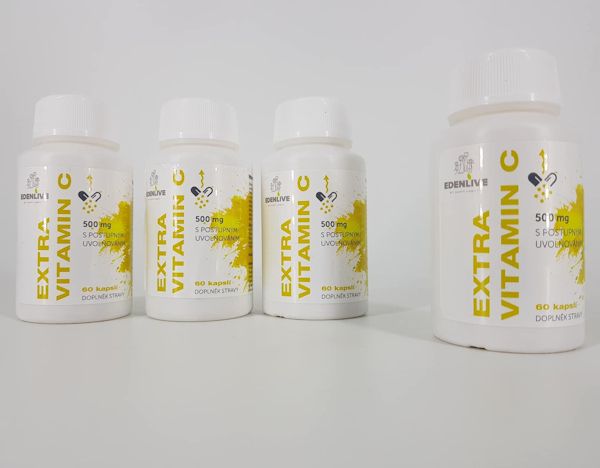 photo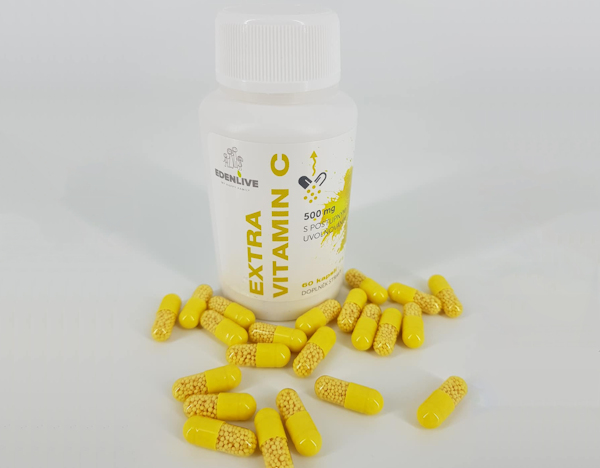 Extra Vitamín C
Extra Vitamin C 500 mg is a dietary supplement, which supports health and the normal function of the immune system.
Extra Vitamin C is produced via the specialized technology micropellets, which ensure that Vitamin C is not individually released inside the organism, but rather gradually over a 12-hour period
Vitamin C supports the immune system and defensive capability of the organism.
It assists in the process of absorbing iron from food and is also crucial for an energetic metabolism.
Excessive or long-term physical and mental stress on the body or adverse effects of the environment lead to the higher consumption of Vitamin C, which must be supplemented in a suitable way.
In addition, pregnant and breastfeeding women, athletes, smokers and alcohol consumers are in need of more Vitamin C.
Any excess of Vitamin C is easily eliminated by the body.
Effects and purpose for use:
Maintains the normal functions of the immune and nervous systems.
Supports an energetic metabolism, reducing tiredness and exhaustion.
Supports the creation of collagen.
Supports the absorption of iron.
Contributes to the preservation of normal psychological functions.
As an antioxidant it protects DNA, proteins and lipids from oxidation.
Contributes to maintaining Vitamin E within it active state.
Package contents: 60 capsules
Ingredients:
1 capsule contains 500 mg of L-ascorbic acid (Vitamin C), i.e. 625% RI (% RI = nutrient content related to the intake reference value).
Additives:
Fillers: microcrystalline cellulose, corn starch.
Capsule coating: gelatine, glazing agent: shellac.
Colourant: beta-carotene, titanium dioxide, riboflavin.
Recommended dosage:
1 capsule 1x per day.
We recommend drinking a sufficient amount of water.
Warning:
Not suitable for children ages 10 and younger.
Do not surpass the recommended daily dosage.
This product does not make up for a varied and balanced diet.
Store in a cool, dry and dark place.
Do not store within the reach of children.
This capsule (containing Vitamin C, with a gradual release design) does not contain any added sugar - suitable for diabetics.
Vitamin C and approved health claims according to valid EU regulations:
If there are at least 9 mg of Vitamin C in one dose, then the following may be confirmed:
Contributes to the normal creation of collagen for normal blood vessel functions
Contributes to the normal creation of collagen for normal bone functions
Contributes to the normal creation of collagen for normal cartilage functions
Contributes to the normal creation of collagen for normal gum functions
Contributes to the normal creation of collagen for normal skin functions
Contributes to the normal creation of collagen for normal teeth functions
Contributes to a normal energetic metabolism
Contributes to the normal functions of the nervous system
Contributes to normal psychological functions
Contributes to the normal functions of the immune system
Contributes to cell protection against oxidative stress
Contributes to the reduction of tiredness and exhaustion levels
Contributes to the regeneration of reduced-form Vitamin E
Increases the absorption of iron
Contributes to maintaining the normal function of the immune system during and after intense physical activity